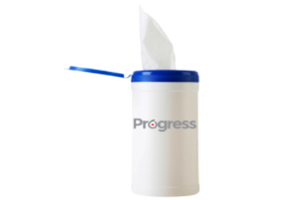 Progress Antibacterial Hand Sanitizer Wipes Canister Pack, Alcohol Free Disinfecting Wipes, Moisturizing Formula with Aloe Barbadensis Leaf Juice, Fresh Lemon Scent | 75 Count
Key Features:

Alcohol Free – Antibacterial disinfecting without the harsh smell and feel of alcohol. Our proprietary antibacterial formula is enriched with a hint of aloe to moisturize and soothe, leaving skin feeling moist and refreshed.
 Powerful Clean – Progress antibacterial hand wipes contain a powerful 0.13% benzalkonium chloride antiseptic formula to clean any surface safely and effectively. For external use only.
 Fresh Scent – Smell the clean with a subtle burst of citrus freshness. Lemon scent keeps hands and surfaces smelling fresh and clean.
 FDA Registered – Accept no substitutes! Progress antibacterial wipes meet all FDA requirements. NDC # 80882-002-50
 Convenient Size – Stay prepared for anything with our value size pack of disposable antibacterial disinfecting wipes. Keep a pack in your car or bag to disinfect high touch surfaces such as grocery carts, door handles, restroom faucets, and car surfaces. Also great for hand sanitizing!
 Elegant Package– Package features a pleasant design and resealable flip top lid for hassle-free, sanitary dispensing |50 wipes per pack, each large wipe measures 6 in x 8 in.
Description:
Progress wipes are an ideal solution for all your personal, household, and on-the-go cleaning needs. The cleansing wipes feature a convenient large size for cleaning tasks big or small. Each wipe measures 6 inches x 8 inches and has a surface area of 48 square inches. Our line of wipes come in a variety of styles to fit your unique needs. Progress Antibacterial Wipes feature a fresh lemon scent and are perfect for use as antibacterial hand wipes, antibacterial disinfecting wipes, and antibacterial travel wipes. Achieve peace of mind as you sanitize and disinfect high touch surfaces with our safe, high-quality wipes. Our proprietary, alcohol free cleansing formula includes a touch of moisturizing aloe barbadensis juice to keep your hands soft as you clean. Free from harmful additives and unnecessary chemicals because we know how important it is to keep your family safe and healthy.  Hassle-free packaging and convenient design mean that Progress is there when you need it, at home or on the go. All our wipes feature elegant packaging designs to complement any home and flip top lids for simply dispensing one wipe at a time.